However, I did not begin this post to tell you that our blog has a new background. I imagine you've already determined that for yourselves. I believe I have mentioned previously that Jennifer has a rather large number of relatives. They are forever getting underfoot. In any event, they all decided to come for a visit and the entire group went on numerous adventurers in the surrounding area. My feline compatriots have already written about a few of these and I shall be adding another one to the list: namely, the Mission at San Juan Capistrano.
The Mission at San Juan Capistrano was founded by a group of Franciscans in the late 1700's. It has been through many changes since then and most, if not all, of the original Mission buildings are no longer visible. The architectural of the remaining structures is quite beautiful, as you can see.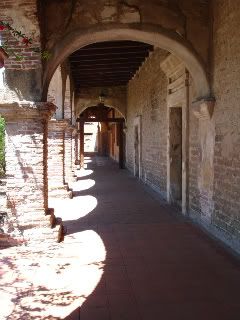 The grounds have been beautifully landscaped as well and feature native and non-native plants.
Although the Mission is now largely a living museum, mass is still held in its Serra Chapel. Jennifer did not wish to use flash photography in a church, so I am afraid there are no usable pictures of it for me to post. However, she did take a lovely shot of a side alter dedicated to Saint Peregrine.
Peregrine, as you may know, is the patron saint of cancer sufferers. Why, exactly, the Mission features a prayer room dedicated to this particular saint was not made clear to me.
I could not post about San Capistrano without mentioning the annual arrival of the swallows every March who build nests under the eves of the Mission buildings. As Jennifer neglected to take a single photograph of either a swallow or its nest, I am forced to post one from an Internet source.
This is the first time in the history of this blog that we have used
someone else's photograph
. The dear girl really must learn to be more observant.
She did, however, capture some lovely pictures of the fish in the Mission's fountains. There was a sign that forbade putting one's hands in the water as it might harm the fish and aquatic plants. It said nothing about paws, however.